Following the announcement of the departure of Joachim Löw from the national team, the German federation has finally formalized the appointment of his successor after Euro 2020. Unsurprisingly, it is Hans Dieter Flick.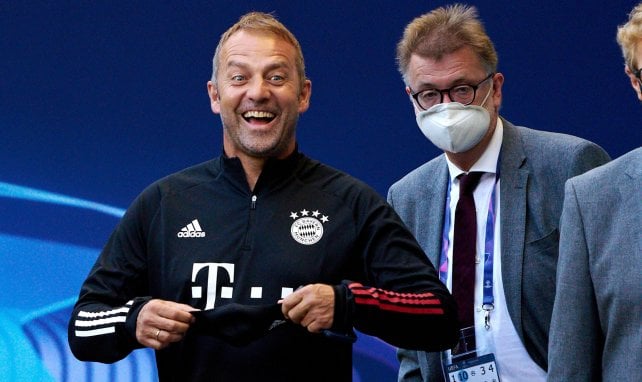 On March 9, Joachim Löw officially announced the end of a fifteen-year chapter. Former assistant to Jürgen Klinsmann propelled coach of the German team, the boss of the Mannschaft crowned world champion in 2014 had decided to return his apron after Euro 2020. Since then, the race for his succession was launched and very quickly , the name of Hans-Dieter Flick – also a former deputy in the national team – was put forward.
After having won almost everything with Bayern Munich since last season (2 Bundesliga, 1 Champions League, 1 German Cup, 1 European Supercup, 1 German Supercup, 1 Club World Cup) and despite an extended contract until 2023 in April 2020, Flick was in deep disagreement with part of his management, and especially Hasan Salihamidzic, his sporting director. In the end, a year and a half after his induction at the head of Bayern, Flick decided to leave.
Another former assistant propelled national coach
Favorite to succeed Löw, the future former Bavarian coach however left the suspense, the Catalan press even announcing that Joan Laporta wanted to do everything to give him the seat of Ronald Koeman on the bench of FC Barcelona. Today, the soap opera is over. The German federation has just announced on its official website the appointment of Flick. The latter has also initialed a lease until 2024.
"Everything went surprisingly fast for me, but I'm very happy to be able to work as a national coach from next fall. (…) I can't wait because I can see the great quality of the players, especially the young German players. This is how we have every reason to approach the tournaments to come with optimism, for example the European Championship at home in 2024. Moreover, I know from experience that I am with Oliver Bierhoff. I have a strong and trustworthy partner by my side who works with the team, so that we can get started without a long start-up time. (…) The most important thing now is not what will happen in September – I will contact you in detail in August – but the next European Championship, for which I wish Jogi Löw, Marcus Sorg, Andy Köpke and the whole team the best possible success. Jogi Löw more than deserved a great end to his career as a national coach "Flick said in the statement.